Watering cans are an essential accessory for any novice or aspiring green-fingered gardener.
Quick glance at the best watering cans:
Related:
Best Watering Cans Reviewed
Our reviews have considered features, such as the weight, water-holding capacity, watering style, and the material the watering can is made of.
These factors will determine how well it performs. So let's dig in and see what each water can on our list has to offer.
The Union Watering Can delivers 2 watering styles, thanks to its removable plastic spout, which makes it versatile for those who need a garden-hose backup and have a lot of watering to do. In addition, the twin handles give you more leverage to choose the way you hold the can.
It also comes in a 1 or 2-gallon size, so you can choose from the two models, depending on how much water you think you'll need or how many plants you have to water. We believe this is the best watering can for most uses, and it's available in a range of bright colors with a cute tulip motif.
Pros
Twin handles perfect for picking up
Shower and stream watering styles
Choice of 1 or 2-gallon sizes
Cons
The removable plastic spout may be flimsy and could leak
Not the most ergonomic design
This watering can by Bloem can hold more than 2 gallons of water, ideal for those who have lots of flowering beds and plants to water. We've considered it the best all-rounder because of its ergonomic design that allows you to fill it with water from the side so that the handles aren't on the way.
It features a unique sprinkler head that lets you switch between rainmaker watering style to stream with one easy click, targeting areas such as roots without affecting the soil.
This watering can's twin handles make carrying and refilling easy. Its high-quality, UV-resistant, BPA-free plastic body with soft edges gives you an easy watering experience and feels good in your hands.
Pros
Twin handles
Rotating spout clicks into place for 2 watering styles
Holds over 2 gallons of water
Durable plastic and convenient side hole for filling water
Cons
Can be hard to get a light water flow using this can
This budget plastic watering can by Novelty is ideal for day-to-day maintenance of indoor plants. It holds a gallon of water and is lightweight.
Moreover, it features a long spout with a small opening to let you have complete control over the water flow, making it ideal for flowering baskets and hanging plants that may be placed high up. In addition, its long handle gives you leverage, allowing you to move your hand as the water drains out.
Novelty's watering can is sturdy and durable, made of shatterproof UV-resistant plastic. Not to mention, its small size means you can easily store it away.
Pros
Long spout with small water opening
Long, ergonomic handle allows for easier movement
Durable and lightweight, made of shatterproof plastic
Cons
Holds one-gallon capacity only
Suitable only for indoor use
Behrens steel watering can has a vintage appeal and performs as well as it looks! It's made from sturdy galvanized steel that resists rust, so it's ideal for outdoor watering. It's incredibly durable and lasts longer than any plastic watering can, so you could leave it out anywhere, and it'll be as good as ever.
It comes in a range of capacities, including 1.5, 2, 2.5, and 3 gallons, and features a handle at the top that flips down to make filling water easy.
Moreover, it delivers a wide spray pattern, allowing you to cover distant areas, and is suitable for most plants. In addition, it can be tipped forward if you require a stream of water.
Pros
Rust-free galvanized steel
Twin handles
Wide spray watering style
Cons
The sprinkler head isn't removable
Could be expensive for some
Bloem has designed this watering can with plastic resin to ensure long-lasting performance, so you can rest assured that your UV-protected watering can will be fine if you leave it outside or on the window sill.
Unlike chunky cans, this one is beautifully streamlined, so your water won't be splashing about when moving around with the can. In addition, it has a convenient long-stem spout to give you leverage with water control, especially when it comes to delicate plants, houseplants, small plants, or those that may be low down, protecting your back.
You won't get tired of lugging this around your home thanks to its curved, comfortable long handle. You can easily switch between periods of holding and pouring using two hands or one.
You also get a capacity of half a gallon of water and an aesthetically pretty flower motif.
Pros
Long stem spout
Allows precise watering
Curved design avoids water spillage
Long handle
Cons
Small, holds half a gallon only
Catered mainly for day-to-day maintenance
Suitable for plants placed at waist-high length or low down
How to Choose a Watering Can
When it comes to choosing which watering can to go for, it all depends on your requirements and whether you're going to be using it inside or out.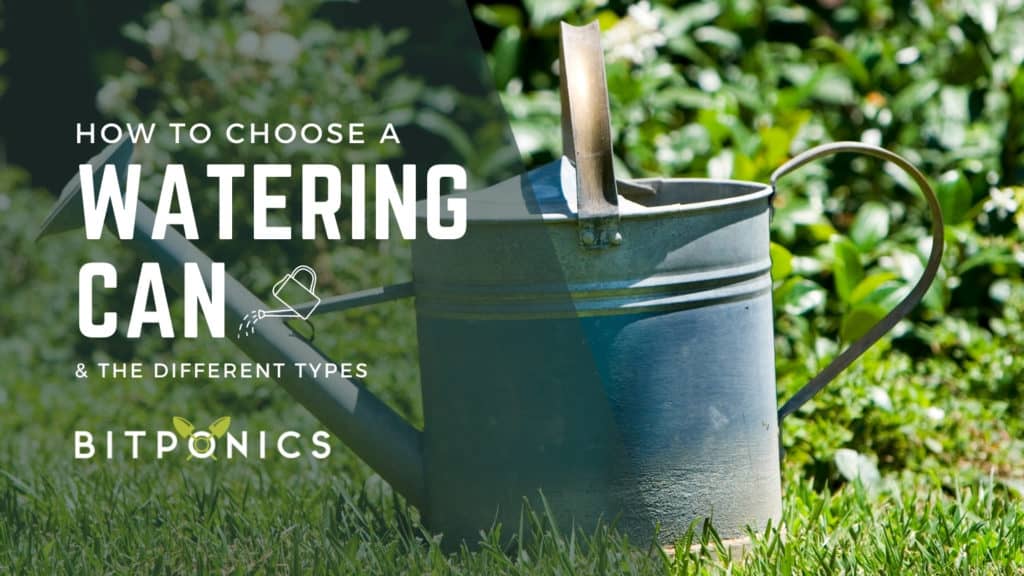 Another factor to bear in mind is the capacity and how much you can carry. Some large watering cans may end up feeling too heavy to hold.
Other cans come with handles that allow you to use both your hands which can be convenient when holding a lot of water. Below are the factors you need to consider when choosing your watering can.
Spout Options
The spout of a watering can will determine the watering style that's delivered. For example, some spouts will have only a stream or pour function while others will sprinkle like a shower, and some will let you switch between both.
A sprinkle head has the advantage of evenly coating your plants with steady pressure, giving you precision by directing where you want water to be sprinkled. In addition, it allows for a light flow to avoid damaging soil.
If, however, you need deep and direct waterings as well, then you might benefit from a can that gives you the flexibility of removing the sprinkle head.
For example, if you require your watering can to provide you with a straight stream directly to the soil, or if you want something to help you extend your reach, then a longer spout would be ideal.
Size
Larger watering cans feel heavier when they're full, so if you know you're going to require a lot of water to serve your needs, opt for a watering can that's large but streamlined and can carry a gallon or two.
Most watering cans will have a carrying capacity of about 1 or 2 gallons, and the ones on the larger end of this spectrum have the advantage of reducing the number of trips to the water faucet.
On the other hand, if you have a few indoor plants to water, you don't need a big watering can. In this case, opt for smaller, lightweight, and compact designs that can cater for about half a gallon.
Pro Tip: Smaller-sized watering cans are perfect for new plantings, seedlings, and houseplants.
You can always choose an inexpensive and small watering can for day-to-day uses and a larger one for mixing in fertilizers and intensive waterings during the main growing seasons.
Material
Some materials give a lovely aesthetic to a watering can, while others tend to be more practical or functional.
Plastic
Being lightweight and therefore easy to refill and relatively sturdy, plastic watering cans are a good choice. They're long-lasting and never rust, especially when stored correctly.
Plastic watering cans are also more streamlined, so they can be stored in small spaces, and some even come with UV-protective coatings so you can leave them out in the sun, and they won't fade.
Plastic cans are cheaper than metal ones and often come with versatile spout options, such as a stream or sprinkler head.
Metal
Metal watering cans have that beautiful, vintage appeal. You can opt for one made of galvanized steel with the advantage of being very strong and durable, so it won't rust the way other metal (particularly tin) watering cans do.
Galvanized steel will probably last you forever, or you can opt for brass, copper, or stainless steel watering cans, all of which have a beautiful aesthetic to them and can look charming in any garden. Metal watering cans tend to be long-lasting but can be heavier than plastic watering cans.
Leak-Free Design
Plastic is usually constructed in one piece, so there are no seams for water to seep out. In contrast, metal cans that tend to rust will potentially leak.
They're also not constructed in one piece, so there might be small joinings in the metal that water may seep out of after some time.
If you're searching for indoor watering cans for indoor house plants, consider one with a curved spout that will prevent leakages when refilling and moving around.
One vs. Two Handles
Two handles can make things feel more comfortable for your hands when operating with larger capacity watering cans, giving you more control over water flow.
You can use the top handle for carrying the watering can around, while you can use the back handle for directing flows.
Some designs come with a long continuous handle from the top to the back, commonly seen on smaller cans and indoor watering cans.
Indoor Plant Misters
Plant misters are used to gently mist plants to encourage humid conditions that plants love. You'll need to use your watering can for watering the soils, as that helps plants take up water through their roots, but misting can prevent leaves and petals from drying out.
Frequently Asked Questions
Here are the most common questions people have.
Are Watering Cans Necessary?
Watering cans give you complete control of the water flow necessary for new plants and seedlings.
Hoses can cause damage at times due to the intense water pressure they impart. Indoor houseplants like succulents would benefit from direct and precise watering with long spouted watering cans without creating the mess that a regular cup might do.
Do Galvanized Watering Cans Rust?
Galvanized and stainless steel cans won't rust but will be heavier than plastic ones. You could opt for an aluminum watering can if you want a metal-based watering can.
How Do You Maintain a Watering Can?
Storing it away from light and in a dry place will help preserve the plastic or metal materials of the can.
How Big Is a Normal Watering Can?
Average watering cans will hold about 1 to 2 gallons of water.
What Can I Use Instead of a Watering Can?
You can use any bottle that has a handle, such as a milk bottle.
Conclusion
The ideal watering can shouldn't be too heavy and must give you the flexibility of two handles to comfortably hold and use it.
It should also have a spout that matches your requirements for the type of watering pattern you desire and carry a water capacity that would be suitable for either indoors or outdoors, depending on which you prefer.
With the right choice, you are sure to provide excellent care and continuous flourishing for your plantings, new seedlings, and crops.