Most gardeners have heard of the hori-hori garden knife by now, also known as the weeding knife. It's a multi-purpose miracle that can easily replace any garden tool that you currently depend on. This must-have knife can dig, weed, saw, cut, slice, transplant, measure soil depth, harvest, prune, and so much more.
Since there are various choices on the market, there are probably many knives that aren't worth your attention. So, if you're interested in finding the best hori-hori knife available now, why it's the best, and how to even choose one, continue reading.
Related:
Best Hori-Hori Knives Reviewed
It's tough to narrow down all the Japanese hori-hori knives on the market to a limited selection that you can choose from. You'll need to understand what you should be looking for in a soil knife first.
So, we've decided to do the hard work for you and find the best options, pointing out which features they excel at the most.
Nisaku NJP650 Hori-Hori Knife - Best Overall
If you don't want to waste time on lesser products and want a shortcut to the best hori-hori knife, there's arguably no better option than the Nisaku NJP650 Hori-Hori Knife. It has everything from affordability to quality construction and practicality.
For one, the knife is quite affordable and almost too good to be true considering its quality. Like the original hori-hori knife, this one's made in Japan. It has all the qualities of the classic design, including the wooden handle, double-sided stainless steel blade that resists rust and scratches, and inch markings that enable you to work at the desired depth.
Pros
Authentically made in Japan
Rust and scratch-resistant stainless steel blade
Inch markings to ensure gardening at the proper depth
Versatile double-sided knife
Relatively affordable
Cons
The sheath is plastic and not the best quality
Black Iron Hori-Hori Knife - Quality Build
We recommend the Black Iron Hori-Hori Knife for people who want knives that can handle heavy-duty use and won't break in two at the first challenge.
From the start, the sturdiness of the hardwood handle is the biggest tell-tale sign that this is no ordinary knife. The high-grade stainless steel blade is rust-resistant and double-sided for versatile use, from weeding to planting bulbs. Its full-tang design promises that it won't break or bend, regardless of your work's intensity.
Also, it has millimeter and inch markings to tell the depth. Finally, it comes with a sharpening stone and heavy-duty leather sheath.
Pros
The full-tang blade is unbendable and unbreakable
High-grade double-sided stainless steel blade
Sturdy hardwood handle
Comes with a sharpening stone and heavy-duty leather sheath
Millimeter and inch markings for reading and measuring the depth
Cons
It feels relatively heavy, so might give you an arm ache after a while.
Sensei Hori-Hori Knife - Traditional
For a traditional design with a modern twist, check out the Sensei Hori-Hori Knife. It's an interesting crossover between a hand trowel and a knife.
The knife has many traditional features. They include the durable stainless steel blade, concave blade with serrated and straight edges for versatile applications, and inch markings that tell you how deep you're digging or seeding.
However, it comes with a modern twist, thanks to the ergonomic, non-slip polymer handle that ensures a secure grip, even when you're sweating. It also comes with a leather sheath with belt loops to keep it on yourself while working.
Pros
Ergonomic, non-slip polymer handle
Durable stainless steel blade that resists the elements
Comes with a leather sheath with belt loops
Inch markings to ensure gardening at the correct depth
Concave, double-sided blade for versatile applications
Cons
The blade is half tang
Truly Garden Hori-Hori Knife - Good Choice
People that seek hori-hori knives typically want an all-in-one option. If that sounds like what you're looking for, the Truly Garden Hori-Hori knife is a good choice with helpful accessories.
The hardwood handle is riveted, which enhances its strength. Even better, the handle has a guard that protects you against the knife's serrated and flat edges. The stainless steel blade is a full tang one, so nothing can break or bend it. And the 5-year warranty makes us confident in the product's durability.
Additionally, it comes with a leather sheath and diamond sharpening rod to keep the blade in the best shape.
Pros
Riveted hardwood handle for extra strength
Handle guard for safety from sharp edges
The full-tang stainless steel blade is unbendable and unbreakable
Comes with a leather sheath and diamond sharpening rod
Backed by a 5-year warranty
Cons
Might be considered heavy for some people.
Cielcera Hori-Hori Garden Knife - Wooden Handle
While polymer handles have their advantages, many gardeners still prefer the wooden handle of the Cielcera Hori-Hori Garden Knife and similar options. That's due to its durability and comfort.
Starting with the handle, it's made of sturdy hardwood and riveted for extra durability. It also comes with a guard that protects you from its sharp double edges. Moreover, rust and corrosion have nothing on the 420 stainless steel blade, as it's rigid with a full-tang design.
In addition, the weeding knife has a leather sheath and diamond sharpening rod so that you can maintain it for a longer shelf life.
Pros
The full-tang blade is unbendable and unbreakable
Riveted wooden handle for extra strength
Handle guard for safety from sharp edges
Comes with a leather sheath and diamond sharpening rod
420 stainless steel blade resists rust and corrosion
Cons
Can be heavy compared to other options
Fiskars Big Grip Garden Knife - Simple Design
For beginners, we suggest the Fiskars Big Grip Garden Knife. It's a handy garden tool with a simple design for basic gardening tasks.
Once you hold the knife, you'll notice its padded, oversized, and comfortable grips. Also, the notched tip is unique and helps remove weeds easily. So, it's a simple knife suitable for beginners or gardeners who don't have high demands. And It's impressively lightweight.
Furthermore, this knife's the most affordable one on our list. Yet, it's backed by a lifetime warranty that guarantees a long shelf life. But you'd do well not to use it for heavy-duty work.
Pros
Most affordable on the list
Backed by a full lifetime warranty
Straightforward design for beginners
Comfortable, padded grips
It has a unique notched tip for removing weeds
Cons
It doesn't come with a sheath
Not durable enough for heavy-duty use
No markings for measurement of depth
The blade isn't stainless steel, but a coated one
How to Choose a Japanese Gardening Knife
There are two possibilities: you're either a beginner who's buying their first digging knife or a professional gardener or landscaper who's on their way to buy their tenth one.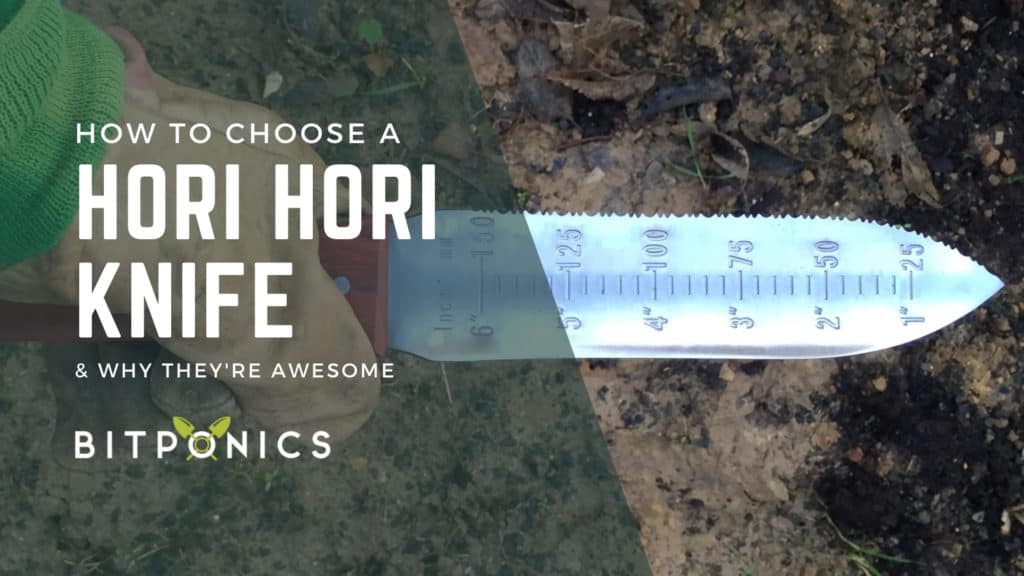 Either way, you don't want to invest time and money on the wrong garden tool, only to have to return or replace it in a couple of weeks. So, pay attention to the features we'll discuss below to know how to decide whether a weeding knife's right for you.
Handle
Because handles make all the difference, most experienced gardeners prefer the wooden handle. For starters, hardwood and bamboo handles aren't affected by the temperature. Also, they provide a non-slip grip for safe usage. Plus, wooden handles are the most aesthetically pleasing and authentic-looking option. However, they may be heavy.
Alternatively, some handles are made of plastic or soft polymer. They're good and lightweight, which is perfect for beginners, while others are flimsy and cheap.
Quick Pro Tip: Look for a handle that's riveted to hold all the knife's parts together and has a lanyard hole to hang the knife on.
Length
It's vital to consider length when it comes to your favorite weeding tool. The length of the blade itself typically ranges from six to seven and a half inches, while the total length of the gardening tool ranges from twelve to fourteen and a half inches. The average width of a Japanese hori-hori knife is an inch and a half to two inches.
Blade
The knife's concave blade comes in varying degrees to help you scoop and dig. The most sustainable material is stainless steel, which handles continuous soil and water exposure, thanks to its corrosion and rust resistance.
This blade type is long-lasting, with little maintenance needed. And the carbon steel blade lasts just as long with good care.
In a dual design, every traditional Japanese garden knife has a serrated edge for digging, sawing, and other demanding tasks and a straight edge for basic slicing and cutting. Furthermore, it should have an engraved ruler/depth scale to gauge how deep you're digging.
Extras
Sometimes, a Japanese gardening knife will come with additional features or accessories that help it stand out. Extra accessories give you the best value for your money, so we highly recommend them if you're on a budget.
A high-quality hori-hori knife comes with its own leather sheath, whetstone, sharpening rod, belt clips, extra blades, and other accessories that save you the cost of having to buy them separately. So, find knives that come with their own accessories.
Tang
The word tang refers to the extension of the blade through the handle. Knives either come with a full tang or half tang.
On the one hand, a full-length tang is an ideal choice for a strong knife that doesn't bend, detach, or break, no matter how much pressure you put it under. So, it's more suitable for heavy-duty use and demanding gardeners that don't settle for less, even if it's more affordable.
On the other hand, a half tang makes the knife lightweight and maneuverable for the less experienced gardeners.
Comfort
Most beginner gardeners don't realize how tiring gardening tasks can be, primarily when they depend on monotonous hand movements.
So, look for knives with an ergonomic, fatigue-free grip because you deserve to take care of your garden without your hands cramping. Different designs cater to different comfort needs.
Many gardeners find natural materials like wooden handles to be the most comfortable. On the other hand, many people find the more modern polymer handles excellent, especially for sweaty hands. If the knife you already have isn't the most comfortable, consider making up for it with comfortable gardening gloves.
Size
When it comes to size, some knives are made for larger hands, while others are made for smaller ones or for people who prioritize portability above everything else. So, bear in mind the size of your own hands and choice of application the next time you buy a hori-hori knife.
Stain/Corrosion Resistance
Any gardening tool you use will constantly be exposed to the elements, whether it's water, soil, or even the sun. It's important to consider whether the materials involved will rust or stain.
If you're looking for a knife that's virtually unaffected by these factors, we highly recommend investing in one with a stainless steel blade.
There's a lesser option that's more affordable, which is the carbon steel blade. For even more affordability, consider blades that are coated with rust-resistant materials. However, these don't even come close to stainless steel blades.
Cleaning/Maintenance
Like other gardening tools, your Japanese garden knife needs care. Whenever you use your soil knife, it collects dirt, sticky sap, and so much more. If these things continue to build up on the blade, they'll reduce its quality.
So, the most basic care routine that you can do is wipe it clean with white spirit after each use. Clean the handles and oil them to prevent them from cracking, as well. Also, sharpening the blade is a no-brainer for the knife to last, so get a diamond sharpening rod to sharpen it whenever it gets dull.
The Sheath
The sheath is the cover that protects the knife from the elements and enables you to store it anywhere. It also saves everyone from the knife's sharp edge. And it comes with belt loops so that you don't lose it while working. Generally, it helps your knife last long.
A leather sheath is the most high-quality option, but there are good nylon options at a lower price. Faux leather is also a popular option for vegan gardeners who don't want any animal-based materials in their products. And it's popular for its affordability when compared to genuine leather.
Why You Need to Buy a Hori-Hori Knife
Cost-Effectiveness
If you think about every garden tool out there and how much it costs, gardening would seem to be very expensive. But, what if we told you that you can save all that money on multiple tools by getting only one? That's precisely what the hori-hori knife is here for. It replaces many tools, which ends up saving a lot of money for gardeners on a budget.
Versatility
It's one little tool that's probably the most versatile in someone's backyard. With a hori-hori knife, you can make seed troughs, slice through anything, cut through roots, loosen up the soil, harvest crops and flowers, remove deep-rooted weeds, mix in fertilizers, dig holes, prune branches, aerate the soil, and do much more.
The engraved measurements also help you understand the depth that you're working with. So, in many ways, this knife acts as a trowel, ruler, pruner, weed extractor, and small saw.
Ease of Use
One of the advantages that hori-hori knives have over other tools is how straightforward they are. Even if you're an amateur in the world of gardening or landscaping, using a knife to cut through stuff and dig up holes comes quite naturally. You can probably tell that the serrated edge is for complex tasks, while the flat edge is for basic tasks without anyone telling you.
So, the hori-hori knife is a favorite among amateurs and professionals alike.
Origin of the Hori-Hori Knife
This is for all Japanese gardening tools enthusiasts. Let's take a trip down memory lane to better understand Hori-Hori knives and how they came to be what they are today.
How It Started
This convenient tool originated in Japan in 1876, when the Meiji government officially banned the manufacturing of katanas, so swordsmiths had to make a living in another way. Their talents of sword forging paid off in the world of gardening. This was all thanks to the high quality of their work and the versatility of their tools.
In the beginning, the Hori-Hori knife was called the "Sansai knife", as it was used to excavate Sansai and harvest vegetables from the mountains. Its handle was either wooden or bamboo.
As time went by, more and more people started to take notice of this particular knife. The duality of its blade's sides helped many farmers and gardeners saw anything with one side and dig with another.
How It's Going
Modern advancements were reflected in the construction of the Hori-Hori knife, as well. Manufacturers are now more able to balance durability with lightness, and the materials used are more affordable to the average gardener.
To give you an example, you can now find knives with good-quality plastic handles. There's even more variety in wooden handles. Also, blades now come in either stainless steel or carbon steel so that you can choose depending on your usage.
Finally, modern knives come with their own accessories. From sharpening rods and stone to nylon and leather sheaths, there's a lot more comfort in these garden tools.
Frequently Asked Questions
Here are the most common questions people have.
What Can Japanese Gardening Knives Do?
Believe it or not, it'd be easier to ask, "what can't Japanese gardening knives do?" The soil knife is a multi-purpose garden tool that can do many gardening tasks and even replace essential gardening tools.
You can use it to dig, cut, slice, remove stubborn roots, harvest all root crops, eradicate all kinds of weeds, saw through anything, mark rows for seeds, transplant, measure soil depth, prune, and finally, seed and plant.
What Does Hori-Hori Mean?
The word "Hori" alone means "to dig" in Japanese. To elaborate, the expression "hori-hori" is an onomatopoeia for the sound of digging, which is a pretty clever way of referencing the common usage of the tool in digging and scooping dirt.
More importantly, the expression refers to a multi-purpose tool, and digging is only one of the many ways you can utilize it. It's also called the weeding knife or soil knife.
How Do You Sharpen a Hori-Hori Knife?
Before you sharpen the tool, make sure you clean it with soapy water or white spirit. Then, grab the sharpening rod, and start sharpening the straight edge of the knife in small circular patterns up and down the blade.
Next, switch to the pointed side of the rod to sharpen the serrated edge of the blade. Then, insert the rod between the teeth, and go back and forth in twisting motion, focusing on the bigger gaps.
What Is Half Tang?
A half-tang knife is one where the blade extends for a short part into the handle, meaning that it doesn't extend to the bottom of the knife. This kind of construction makes the knife more lightweight and maneuverable than its full-tang counterpart, making it ideal for light cutting and gardening tasks.
That being said, we don't recommend the half-tang knife for heavy-duty tasks because it might break under pressure. However, it's better suited for beginners.
Final Word
Ultimately, the best knife is probably the Nisaku NJP650 Hori-Hori Knife. This Japanese knife is durable and rust and scratch-resistant.
Also, its inch markings are pretty helpful. If your priority is optimal construction, consider the Black Iron Hori-Hori Knife. Finally, we recommend the Sensei Hori-Hori Knife for its traditional-modern blend.