Let me guess, you're on the lookout for the best garden hose, and you can't make up your mind because of the number of options on the market all claiming to be the best? I've been there, too. As a fellow gardening-lover, I know how much of a hassle it is when your hose isn't performing as well as it's supposed to.
Quick glance at the best garden hoses:
Related:
Best Garden Hoses Reviewed
Comparing all the different garden hoses on the market is near impossible. For that, I decided to gather all my favorite water hoses here with a detailed review of each one. So, without further ado, keep on reading to meet the best garden hoses on the market, along with their pros, cons, and everything else you might need to know.
When testing 32 garden hoses, a study by the Ecology Center in 2016 showed that the hoses labeled as drinking water-safe had significantly fewer chemicals, making them generally safer. For that, you'll find none better than the Eley water hose.
Even though the polyurethane material can withstand up to 150 PSI (pounds per square inch), it's not really suitable to be used with a nozzle or a sprinkler.
This ⅝-inches wide garden hose has brass fittings that are lead-free to reduce the number of chemicals in the water. Also, it's kink-resistant, which is always a bonus. What's more, having a 100-feet to play with, guarantees that it'll easily cover your whole garden.
Pros
Kink-resistant
Can handle pressure up to 150 PSI
Drinking water safe
Comes with a high-quality brass fitting
100-feet long, so it's easy to use
Cons
Expensive for some people
Can't be used with a hose nozzle or a sprinkler
Rubber hoses are known for their lightness in weight yet high durability, and the Craftsman Premium Rubber hose is no exception. This rubber hose is 50 feet long and has an inner diameter of 5/8 inches, so it's quite versatile.
My absolute favorite thing about this rubber garden hose is its incredible 500 PSI burst strength. You'd think that with such strength, this garden hose would be heavy, but it's not! In fact, it weighs just under 10 pounds. Also, it comes with crush-resistant brass couplers that are both durable and corrosion-resistant.
When using this heavy-duty hose, you'll find that it doesn't kink that easily, and even if it does, the kinks are easy to remove.
Pros
Unmatchable 500 PSI
Durable rubber construction
Versatile and easy to use
Excellent heavy-duty hose
Cons
The brass hose fittings come loose sometimes
The rubber might stain your hands
When on the lookout for an expandable garden hose, you'll find none better than this Flexi hose. With solid brass couplers and a double latex core, you're guaranteed high-quality materials and a durable garden hose. Besides, it's very easy to store and takes very little space, perfect for smaller gardens.
This budget-friendly expandable hose can withstand up to 12 bars of burst pressure, which is about 174 PSI, making it strong enough for casual gardening, but nothing heavy-duty.
The lightweight Flexi water hose comes with a rotating spray nozzle that has eight spray modes that you can choose from according to your gardening needs. Lastly, its available in 50-feet, 75-feet, and 100-feet length options that you can choose from.
Pros
Has an eight-setting spray nozzle that can be used as a pressure washer
Comes at an affordable price point
Has high-quality solid brass fittings
An expandable, easy-to-store, and lightweight garden hose
Available in multiple length options
Cons
Not the most long-lasting
If you want an expandable garden hose that will last a lifetime without suffering a scratch, you'll find none better than the J&B XpandaHose. It's constructed with a four-layer latex core and brass connector that can take a beating and remain as good as new.
Much like the Flexi hose, this one can handle up to 12 bars of burst pressure (~174 PSI) with no issues. What's more, this 75-ft garden hose comes with a 10-setting spray nozzle that's so convenient to use.
On top of that, it's incredibly lightweight and easy to store because it shrinks to a third of its full size when you turn off the water flow.
Pros
An outstandingly lightweight hose that's easy to store
Has a 10-setting spray nozzle
Unmatched durability
Made with a four-layer latex core and high-quality brass connectors
Cons
Sometimes the hose nozzle gets leaky
Having to deal with kinky hoses is just a hassle. That's why the Zero-G Kink-Free hose is here to save the day. Made with durable woven fiber, it's also resistant to kinks and punctures.
Moreover, it's drinking water-safe, so it's free of lead and generally safer to use than regular hoses. This kink-resisting garden hose has the highest burst rating on this list at 600 PSI, so it's strong enough to handle any water pressure you throw at it.
What really surprised me about this garden hose is how lightweight it is. This 50-ft hose weighs only 4.3 pounds!
Pros
Kink-free design that can also resist punctures
Has an incredible burst rating on 600 PSI
Compatible with almost any garden hose reel
Lightweight at just 4.3 pounds
Drinking water-safe
Cons
Prone to leaking at connectors
Living in an area where the weather changes drastically throughout the year can really damage your garden hose. In that case, I strongly recommend checking out the Briggs and Stratton Garden Hose.
This heavy-duty hose is perfect for any gardening tasks you have to do. Also, it can withstand any weather condition thanks to its nickel-plated brass couplers that are corrosion-resistant. What's more, its 100T rubber cover helps the hose stay flexible during both cold and hot days.
Lastly, it comes in three different lengths: 25, 50, 75, and 100 feet, so you can choose whichever best fits your needs. Also, I strongly recommend not coiling it to avoid potential kinks later on.
Pros
Can withstand extreme weather conditions
Heavy-duty (built to last basically)
Available in four different hose length options
Highly durable
Cons
Leaves black residue on your hands
It kinks where it's coiled
Editors note: I had a hard time choosing between this and the Dramm ColorStorm Premium model. Dramm make incredibly high quality hoses that are worth the cost. So if you're willing to spend a little more, then a Dramm hose might be a better choice. A lot of people either love it or hate it, which is why I left it off this list.
If you want a durable coiled garden hose, check this one by Instapark. This garden hose is made from premium-quality EVA, and it has brass couplers on each end. The connectors are quite durable and corrosion-resistant, so you know it'll last a good while.
The Instapark coiled hose can extend up to 50 feet when water flows through it, and it coils back into a small shape. In other words, it's easy to store and takes very little space.
Additionally, it comes with a rotating garden hose nozzle that has seven spray settings and an anti-slip rubber grip. Lastly, the coiled hose's green color blends well with the garden, so that's a bonus.
Pros
Expands up to 50 feet and then coils back to its original shape
The rotating nozzle has seven spray pattern settings
The nozzle has a rubber grip that's comfortable to hold
Heavy-duty hose
Cons
Not the most durable option
With length options ranging from 5 to 75 feet, the Legacy Flexzilla garden hose is one of the most versatile options on the market. Made with high-quality polymer, this Flexzilla garden hose is highly flexible and durable.
Its solid build with reinforced mid-layering allows it to be used in extreme weather conditions without any issues.
Moreover, this polymer used to manufacture this garden hose can be coiled easily without developing any kink in the process. Did I also mention that the Glexzilla garden hose is drinking water safe? That's especially true thanks to its aluminum fittings and the hose's lead-free construction.
Pros
Drinking water-safe
Can be coiled effortlessly
Can withstand extreme weather conditions
Flexible hose with a durable build
Relatively lightweight hose pipe
Cons
Requires a lot of maintenance
How to Choose a Garden Hose
Before settling on the first garden hose your eyes land on, here are a few factors that you need to take into consideration. Make sure you read and understand every factor well in order to make the best buying decision.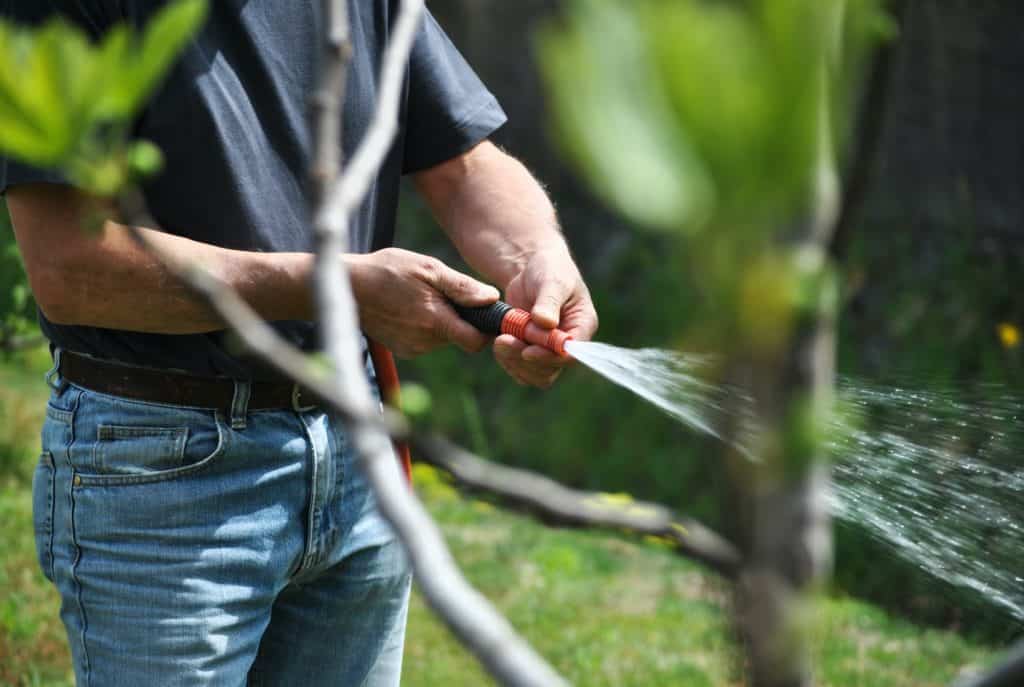 Types
With the increasing number of garden hoses on the market, it can get a little difficult to find the type you need. So, let's discuss all the different types that you can benefit from.
Expandable Hoses
Let's start with one of my all-time favorite types: expandable hoses. An expandable garden hose is the best solution for those with limited storage space. Simply put, it increases in length and width when water starts flowing through it; then it shrinks back when the water stops.
Another great benefit to them is that they're not prone to kinking simply because of their flexible construction.
Quick Pro Tip: Besides its ease of storage, an expandable hose is also incredibly lightweight when compared to a regular hose.
Flat Hoses
Another storage-friendly alternative to expandable hoses is a flat hose. As the name implies, a flat garden hose remains flat when there's no water flow, and then it expands when there's water flowing through it.
More on that, a flat garden hose is generally lighter in weight than other types of hoses, which is always an advantage.
Soaker Hoses
Going for a soaker hose is the optimum choice if your garden requires watering quite often. They have small holes all over them, so when water flows through them, they distribute the water along their length.
Simply run the soaker hose around your garden and leave it there. All you have to do is turn the water faucet on until the garden has enough water, then turn it off.
Quick Pro Tip: A soaker hose might require a few trials until you know how long you should leave the water faucet on to provide just the right amount of water for your plants.
Kink-Free Hoses
You've seen me talk about kink-free hoses throughout the article, but what exactly is a kink-free hose?
Simply, a kink-free garden hose is reinforced with materials that simply don't kink. So, if you often coil and uncoil your hoses, which causes a lot of kinks later on, then I strongly recommend going for a kink-free hose.
Keep in mind that no hose is 100% kink-free! You still need to be careful when using your garden hose, even if it's labeled as "kink-free".
Light-Duty vs. Heavy-Duty Hoses
While going for a heavy-duty hose might seem tempting, you need to stop and ask yourself if you really need it.
Heavy-duty hoses are made from sturdy materials that can withstand high water pressure so that you can use them with sprinkles, for example. However, this kind of hoses is usually heavy and difficult to store.
On the other hand, going for a light-duty hose is suitable for casual gardening tasks. Light-duty hoses are lightweight and easy to use and store.
To keep it simple, I strongly recommend opting for a lightweight hose unless you really need a heavy-duty one that can take a beating.
Durability
It goes without saying that you need a durable water hose. The durability heavily depends on the materials used in the manufacturing of the hose, which we'll discuss in a second. For now, I strongly recommend reading users' reviews and seeing what they have to say about how durable your hose of choice is.
Quick Pro Tip: To extend your hose's lifetime, make sure you're gentle with it. Don't drag it across sharp floorings, like stones, and make sure to store it correctly and place it on a hose hanger or hose reel for easy access.
Material
There are different materials used to make hoses, which makes your choice even harder. Here are the most commonly used materials and how to choose among them.
Rubber
Rubber is the most commonly used material on any standard hose, and there's a reason for that. Rubber is incredibly durable and can withstand most weather conditions. I always recommend opting for a rubber hose if you don't know where to start.
Metal
Going for a metal garden hose ensures no kinking because metals are naturally kink-resisting. Also, metal hoses can withstand harsh weather conditions. On top of that, metal hoses are incredibly lightweight and durable because their metal exterior is puncture-resistant.
Vinyl
Generally, opting for a vinyl hose is the most budget-friendly option. To keep it simple and straightforward, I recommend going for a vinyl garden hose if you don't use the hose too often and you want one to get the job done and nothing more.
However, if you want durability and longevity, you can look for a reinforced vinyl hose, which should last longer than a regular vinyl one. Also, reinforced hoses, in general, can withstand high water pressure.
Other Materials
Recently, the number of polymer garden hoses has increased drastically, rightfully so. Polymer hoses offer the perfect combination of lightness in weight, excellent durability, and less kinking. Besides, polymer hoses are flexible, so you can coil them easily.
Lastly, most polymer garden hoses are drinking water safe, which brings us to our next factor: safety.
Safety
You must be wondering, "are drinking water-safe hoses really safe?" The answer is yes. As I mentioned before, studies were conducted to show how effective drinking water-safe hoses really are, and the results showed that they are, indeed, effective.
They tend to have fewer chemicals like lead, bromine, and antimony, but they still have traces of phthalates.
To ensure your safety, I recommend going for hoses labeled as drinking water safe or lead-free, but still not directly drinking from them; better safe than sorry!
Price
There's some truth to the phrase "you get what you pay for", especially when shopping for hoses. High-quality hoses are made from expensive core materials, and those materials can make or break your hose, literally. In other words, try to steer away from overly cheap hoses.
Diameter
Most garden hoses are 5/8 inches in diameter, which is the optimum size, in my opinion. Wide hoses are much faster at delivering water, but the water's pressure is lower than thinner ones (that's how physics works).
To keep it simple, opt for a thin hose if you want high water pressure for sprinkles and for a wide hose if you want quick water delivery. Still, I recommend 5/8-inch wide hoses for the perfect balance between speed and pressure.
Length
The hose length is a strong tell of its output water pressure. While going for a longer hose means that it'll easily cover your whole garden, it also means that you'll be getting weaker water pressure due to the friction the water faces inside the hose.
The best approach is to go for a hose that's just the perfect length to cover your whole garden and nothing more. Longer doesn't mean better!
Coupling
Your hose's coupling is a lot more important than you might think. Try opting for a hose with metal couplings, preferably brass or nickel-plated ones, because those offer the best durability along with corrosion resistance.
Some hoses come with plastic connectors, but those aren't half as long-lasting as metal ones, so steer away from plastic fittings.
Also, try to find lead-free fittings for enhanced safety and fewer chemicals in the water.
Frequently Asked Questions
If you can't find an answer to your question below, get in touch and we'll be happy to help.
Are Stainless Steel Garden Hoses Better Than Rubber?
That heavily depends on your usage and the weather conditions in your area. Stainless steel hoses are better at resisting kinks and punctures. Also, stainless steel hoses are better for hotter areas because rubber can get damaged by UV rays.
On the other hand, rubber garden hoses are incredibly durable and long-lasting because they're less prone to cracking. Also, rubber hoses are much more flexible. So, weigh the pros and cons of each type and make the decision yourself.
Are Expandable Garden Hoses Worth It?
Yes, they are! With have a lot of advantages too. Firstly, they're easy to use, you just turn on the water faucet, and the expandable garden hose will expand to its full length, then shrink back when you turn off the faucet. On top of that, expandable hoses are incredibly lightweight, easy to store, and less prone to kinking.
Does a Longer Hose Reduce Water Pressure?
Yes! Practically, when water flows through the hose, it's exposed to a lot of friction with the hose walls, which results in loss of energy, according to the rules of physics. The longer your water hose is, the more energy the water loses, which drastically reduces water pressure by the time the water reaches the nozzle.
Do Expandable Garden Hoses Last?
Yes, they do. Like any water hose, expandable garden hoses' longevity depends on the materials used in their manufacture. Simply, if your expandable hose is made from high-quality materials, it'll last for years. Just make sure you're gentle with the hose and don't expose it to damaging conditions, and you should be good to go.
Can Flex Hoses Be Repaired?
That depends on how bad the damage is to the inner tube and the outer material. If that happens, I strongly recommend contacting the manufacturer and hearing what they have to say about possibly repairing your water hose.
Final Words
All in all, I can fully appreciate how hard it is to choose a brand, I've been there before many times. Here's a quick recap of my top picks:
Eley Hose: This drinking water-safe hose is suitable for most gardens, and it rarely kinks, making it the best garden hose out there.
Craftsman Premium Rubber: this premium garden hose offers an incredible burst strength of 500 PSI.
Flexi Hose: If you're bound by a budget, this garden hose offers the best value for the money out of all other options on this list.