A garden hose nozzle makes all the difference when it comes to watering different plants. Not only is it more convenient than using your thumb, but it's also more efficient; you don't have to run back and forth switching your hose off, and it saves you water in the long run. With a nozzle, you're given control to avoid overwatering your plants.
Selecting a hose nozzle is challenging as there are many options available. Depending on how you plan to use it, you should base your choice. Check out the garden hose nozzles that we have reviewed for you below.
Quick glance at the best garden hose nozzles:
You may also like:
Best Garden Hose Nozzles Reviewed
We've reviewed the top hose nozzles available on the market, suitable for all uses. We've even considered those with additional features and the benefits of having them, as well as the materials the nozzles are constructed from and how this could be a deciding factor for you, depending on how long you want your nozzle to last.
So, without any further ado, let's get to them.
This 10-pattern metal nozzle is durable and versatile as it allows 10 varied watering styles and lets you control the water flow.
These watering styles include "shower", "jet", "mist" for new plantings, and "cone," as well as directional styles of flat or vertical. You can switch between washing things using the high-pressure stream to hose dirt away and the gentle shower for watering flowers.
Regarding usage, you twist the nozzle to the spray pattern required, and it clicks into place. It's also got a sturdy, comfortable grip, so you feel minor strain when using it for long periods.
Pros
10 versatile spray patterns with water flow control
Reliable and durable hard-wearing construction
Rubber handle for comfort
Cons
May not be suitable for everyone - too many settings for those who only use the garden hose for a few tasks
Jet stream setting may not offer the strongest pressure
This hose nozzle equips you with watering styles "rain" for plants, "mist" for new seedlings, and "stream" for deep cleaning around your garden. Directional water styles in cone, center, flat, fan and angle, allow for more control with the shape of water sprayed.
Regarding usage, you rotate the nozzle to the spray pattern required, and it clicks into place.
The Dramm has a fancy one-touch system, allowing you to switch the water on and control water quantity just by sliding a switch forward and back. It's also got a molded hand grip, so you feel minor strain when using it for long periods. Moreover, its sturdy metal and plastic combo come in lots of colors.
Pros
9 versatile spray patterns with water flow control
Reliable and metal hard-wearing construction
One-touch system
Cons
Too many settings may confuse some users, especially those who only use the garden hose for a few tasks
Metal and plastic combination at nozzle head could leak water after a while
This watering wand has got to be one of the best picks out there. It's perfect for watering hard-to-reach areas like hanging planters and broad flowering beds. Its plastic hose nozzle combined with an aluminum body makes it light and portable.
It's available in 2 lengths, 16 and 30 inches, and has a thumb switch or one touch on its grip to control water flow, depending on if you want low water pressure or high. This effectively saves water when moving from one plant bed to the next.
The wand also comes with a rain shower watering head, perfect for delicate plants, and is available in many colors.
Pros
Fast-flow watering without damaging delicate plants and topsoil
Reliable and metal hard-wearing construction
Thumb-operated hose spray nozzle valve
Cons
Not for everyone - may not have enough pressure for some users
Metal and plastic combination could be flimsy
Doesn't have a jet stream or pressure washer features
This classic, metal-based pistol grip nozzle is made from stainless steel combined with zinc alloy. It's a lightweight, budget option for many of us who want something that will last us the peak gardening season.
It has a versatile hose nozzle that comes with a different spray pattern, giving you a lot for your money. It has a threaded front so you can easily attach cleaning tools, and the pistol nozzle has a metal loop at the top that locks in place. It also has a flow rate control dial for flexibility.
The pistol-style grip may be a little hard to squeeze each time water is needed. This can be overcome by wearing some gloves, and for extended periods of use, the open clip feature it has can be used to spray continuously.
Pros
The metal sprayer is sturdy and hard-wearing
Threaded front for attaching cleaning tools
Different spray pattern available
Cons
May not be comfortable to hold for some users
The nozzle is small and stiff- You'll have to hold onto the clip to spray continuously
This water hose from Gardena has a spray gun-style plastic nozzle and a classic pistol grip. You're given 7 different spray patterns to switch between delicate plants or large planting beds. It's designed ergonomically out of non-slip plastic that fits snug in your hand.
The hose comes conveniently pre-assembled to you and features a quick connect option. Regarding usage, you can adjust the flow with the handy rear adjustment knob. All metal fittings and the plastic body give the user the benefits of durability and lightweight usability.
Pros
Water flow control knob and quick-connect option
Lock trigger for continuous watering
Soft, non-slip, pistol-grip, plastic handle and metal fittings
Cons
Not as many spray patterns
The plastic nozzle may be flimsy
Dramm 9-Pattern Dial Nozzle - Dial Nozzle
This dial nozzle comes with 9 watering patterns for flexibility of use and directional water styles, such as "cone" or "center". You can choose between watering the garden using a "shower" setting or "jet" pressure washing your driveway quickly with one nozzle.
It features a molded handgrip with a handy one-touch valve, so with a flick of a button, you can start watering. This gives you control over the quantity of water used, saving you water in the long run and reducing hand strain as there's no need to squeeze the way you must with conventional hose use.
Regarding usage, you rotate the dial nozzle to the spray pattern required, and it clicks into place, then pushes down on the pistol grip lever. Its sturdy metal body is available in many colors.
Pros
9 versatile spray patterns with water flow control
One-touch system
Cons
Trigger style isn't as comfortable
Rubber and plastic combination at nozzle head could leak water after a while
Bon-Aire Ultimate Hose Nozzle - Fireman Nozzle
This comfortable fireman nozzle only needs a twist to start and stop the water flow. Though it doesn't come with spray settings, its simple design means you gradually rotate the nozzle for the different options.
With a two-way shut-off, you don't have to worry about turning it all the way to the beginning to stop the water flow.
This fireman nozzle comes with 5 watering patterns with the pressure consistent in all. The "jet" and "spray" settings allow a range of uses. Moreover, the rubber casing protects the metal aluminum middle for long-lasting durability.
Pros
It has 5 versatile spray patterns with water flow control
Two-way shut-off system
Strong rubber and aluminum construction
Cons
Some may find it has limited spray options
Some users may experience less control of water flow with this nozzle style
Dramm Brass Traditional Nozzle - Traditional Nozzle
This simple, no-frills durable brass nozzle offers high pressure that is handy for cleaning up. Its basic design feels heavy duty and is durable due to its solid brass construction.
So, you can rest assured it'll last longer than many plastic nozzles. However, it doesn't offer low-pressure settings for basic watering but does come with spray patterns for convenience.
Regarding its usage, twisting the barrel emits a fine mist, which could work for general gardening use, and you can change the watering pattern as you rotate more to release a stronger jet-pressure water flow.
You can switch between fan or cone directional water patterns. It may lack various spray patterns and flow triggers, but the solid brass construction promises lifelong usage.
Pros
Made of high-quality solid brass
Adjustable spray: fine mist or jet-pressure washer
Long-lasting construction can last for years
Cons
Not suitable for low-pressure usage
Not ideal for day to day garden usage i.e., watering
How to Choose a Hose Nozzle
Though a water hose nozzle seems like something that just attaches to the end of a garden hose, it can provide many benefits and simplify gardening for you.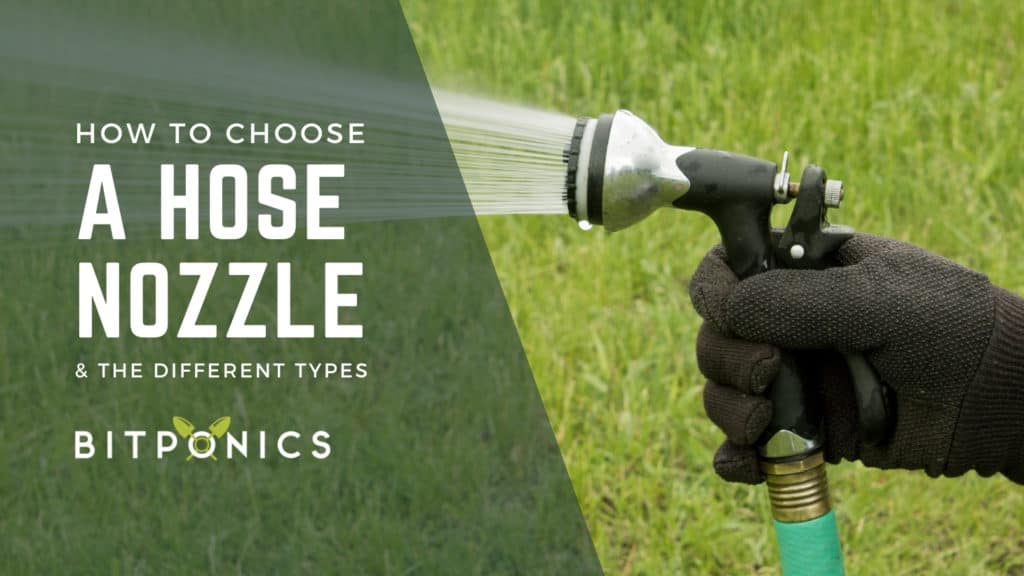 Think about your specific requirements. As a gardener, these would be the plants you have and the kind of watering they require. As a homeowner, think about the cleaning you might need to use your hose for.
Also, for either, consider factors to do with the power you need: the jet pressure, functions, such as different spray patterns you may need for versatility, and how long you need it to last you - either just for the season or for many years to come.
Spray Patterns
Spray patterns can be crucial features depending on the nature of your garden. If you have combinations of fragile plants and heavy shrubs in your garden, then a spray pattern nozzle would greatly benefit you in saving you time and water.
Most of the nozzles that come with multi-spray patterns are user-friendly, allowing you not to worry about switching the water off and alternating between spray patterns at a twist of a dial.
Shower
This pattern can be used for watering most shrubbery and plant beds, covering a large area.
Flat
This setting allows you to cover narrow areas like plant rows or edging plants; it directs the water in a flat shape so you can adjust water direction only to narrow plantings.
Cone
This setting sprays water in a circular cone-shaped pattern so you can water a ring of plants all in one go.
Soaker (Fireman)
Plant beds that need a drenching of water, similar to how a fireman's hose would work, would benefit from this pattern.
Materials
Water hose nozzles consist of two parts: the handle and sprayer, which can be only plastic and metal or a combination.
Plastic
Plastic nozzles have the advantage of being lightweight. However, this comes at the cost of durability and how long it'll last. There are also possibilities of leaks with a plastic nozzle, as they have the tendency to crack if dropped, and issues with melting if left out in the sun.
Metal
Usually, metal hoses are stainless steel, brass, or aluminum. They tend to be more durable and heavy-duty than plastic, which is weaker and cracks easily. They're sure to last longer but that comes at the cost of their weight, which may make it hard for those with wrist strains to use.
Some are combined with rubber, and others have a baked-on enamel finish; both give added durability.
Grips
This is the way by which the user holds the nozzle. Depending on what you wish to use your hose for, a grip can make a difference in the ease you experience when watering. Some grips are perfect for hard-to-reach areas such as watering baskets, while others aren't suitable for those who may have sensitive wrists.
Pistol
This nozzle style looks like a pistol gun with a trigger that gives you control of the flow. They have the advantage of giving you control but can be susceptible to usage ablation, so it's ideal to invest in a higher quality one.
Dial/Turret
Dial nozzles let you switch between different spray patterns and give you convenience at a turn of the dial. Gardens with varieties of plantings may need different flows and directions of water and will benefit significantly from this convenience.
The dial mechanism lets you quickly switch between patterns. Most styles are great for fragile plants, and heavier shrubs benefit from shower style.
Wand
This wand nozzle style gives you the convenience of an extension lead onto your hose so you can reach up to hanging planters or broader garden beds. Some wands come with trigger buttons to give you control over the flow. This can help avoid overwatering and saturating soil more than needed.
Traditional
Traditional nozzles come with a barrel at the tip that, when rotated, controls the quantity of water that flows out. These nozzles also have a few watering patterns, such as mist and jet.
Nozzle Connectors
Most hoses have standard thread sizes with plastic or metal fittings on end. The fitting can either be US standard or GHT, or British Standard/BSP. That is something to look for when purchasing your nozzle to ensure that your nozzle fits onto the threading of your hose end.
Additionally, using a small washer plate helps you avoid leaks as it ensures your nozzle and hose fit together.
You can use a quick-connect process that puts together the nozzle component and hose, saving you time rather than screwing them together.
Flow Rate
The water flow from a garden hose can range from 2.5 to 5 gallons per minute. When purchasing a nozzle, this isn't a deciding factor, as most nozzles will adapt to the particular water pressure level coming through your hose.
Shut-Off Valves
This feature is important considering the need to reduce our overconsumption of water. A shut-off valve gives the ease of switching off water flow when needed. Most hose spray nozzles available will have this either by releasing a trigger or twisting the barrel at the end of the hose.
Hose Diameter
A typical garden hose nozzle will have the below diameters:
3/8 inch
1/2 inch
3/4 inch
5/8 inch
1 inch
A ⅝-inch hose is the average most people require.
Frequently Asked Questions
Here are the most important questions that people have.
What Is the PSI of a Garden Hose Nozzle?
The PSI is a measure at which a garden hose will split due to the amount of water pressure. A low-quality hose splits at about 200 PSI, while a medium-quality hose splits at about 275 to 350 PSI. A high-quality one can take up to about 500 PSI.
Nozzles are handy because they can produce more pressure, using the same amount of water that you would use without a nozzle attachment. This is perfect for pressure washing areas that may need cleaning.
What Is the Best High-Pressure Hose Nozzle?
The Dramm Brass nozzle is the best for high-pressure usage. This is great for cleaning up walkways, gutters, and patios, and you have the choice between spray patterns and flow volumes by adjusting the barrel at the top. It's also a great durable construction and is long-lasting.
How Do Hose Nozzles Work?
Your hose has two ends, one is fitted with a cuff that attaches onto your outdoor spigot or water source, and the other end has special threading, which allows for a nozzle to be connected. Once water is turned on without a nozzle, you'd have little control over how the water flows out.
How Do You Clean a Hose Nozzle?
There are a few ways to do this: If you don't have much grime to clean, you can grab a toothbrush to give a good scrub. But when dealing with clogged water deposits, you might need more action.
First, remove the nozzle from the hose, and then take apart the spray head from the handle using a screwdriver and pop the spray head into a bowl of white vinegar for an hour.
Alternatively, sprinkle some baking soda into the vinegar bowl, and that will break down the deposits. You can even use a pin to poke each hole in your spray head to remove debris that might be wedged in.
How to Connect a Garden Hose to a Nozzle?
The end of your hose will have threading and a clamp that attaches onto your nozzle with a quick click as you twist. WIth your garden nozzle, you will be supplied with a small washer plate, which looks like a little rubber ring that you place between your nozzle and hose so that leaks are avoided.
Conclusion
All the nozzles we've reviewed have unique features that may coincide with your requirements. You might need a nozzle to perform a range of tasks, cleaning grime off your driveway or lightly misting your new flowers.
We've gone through specific features, like how spray patterns can be put to different uses or what grips would best suit you during your usage, and if the material it's made from tends to how long you'll use it for.
Along with this, there are a few pointers we've suggested to keep in mind, such as the flow rate and hose diameter, when you're shopping for your nozzle.